*formerly known as Grillin' Brazilian
A Brazilian Steakhouse on wheels.
What is Brazilian food? Well, its lot like American BBQ except that its REFRESHING. Our entire menu, right down to the chimichurri, is made from scratch, every day. Its gotta be FRESH. All of it. Every protein that hits the grill is treated with the utmost respect, to ensure maximum freshness. Our locally sourced steak, always allowed to rest before AND after the grill to help retain it's awesome juiciness and… freshness. Chimichurri made from fresh herbs every morning (never dry herbs!), pairs perfectly with our selection of steaks. Its labor-intensive, but thats Brazilian BBQ : )
We'll be locally sourcing our beef and pork, and gathering fresh produce every day, just like we do in Brazil. Some Brazilian ingredients cannot be found here in Maine, so we paddle our inflatable raft to Rio every morning to pick up tapioca flour, Guarana, Acai, etc. Ok, maybe we don't go that far, but we do make regular trips to various Brazilian markets in Massachusetts to get the REAL imported stuff.
At Sampa Kitchen we look to represent the best of Brazilian cuisine; emphasizing locally-sourced ingredients, scratch-made and grilled fresh in a fun atmosphere. Swing by our little steakhouse on wheels for lunch or dinner, or contact us for catering your next event. We look forward to meeting you. Saude!
Be sure to follow us on Instagram and Facebook for daily updates on location(s) and hours!
CATERING
The Sampa Kitchen food truck (formerly known as "Grillin Brazilian") makes delicious, freshly grilled food, with a memorable level of service your guests are sure to enjoy. Perfect for weddings, or any special event, our fresh Brazilian specialties appeal to all palates, from kiddos to grown-ups. With our fully-equipped commercial kitchen, we can serve a 5-7 course meal for up to 150 guests, including appetizers and desserts!
Click the link below for our catering menu and service options!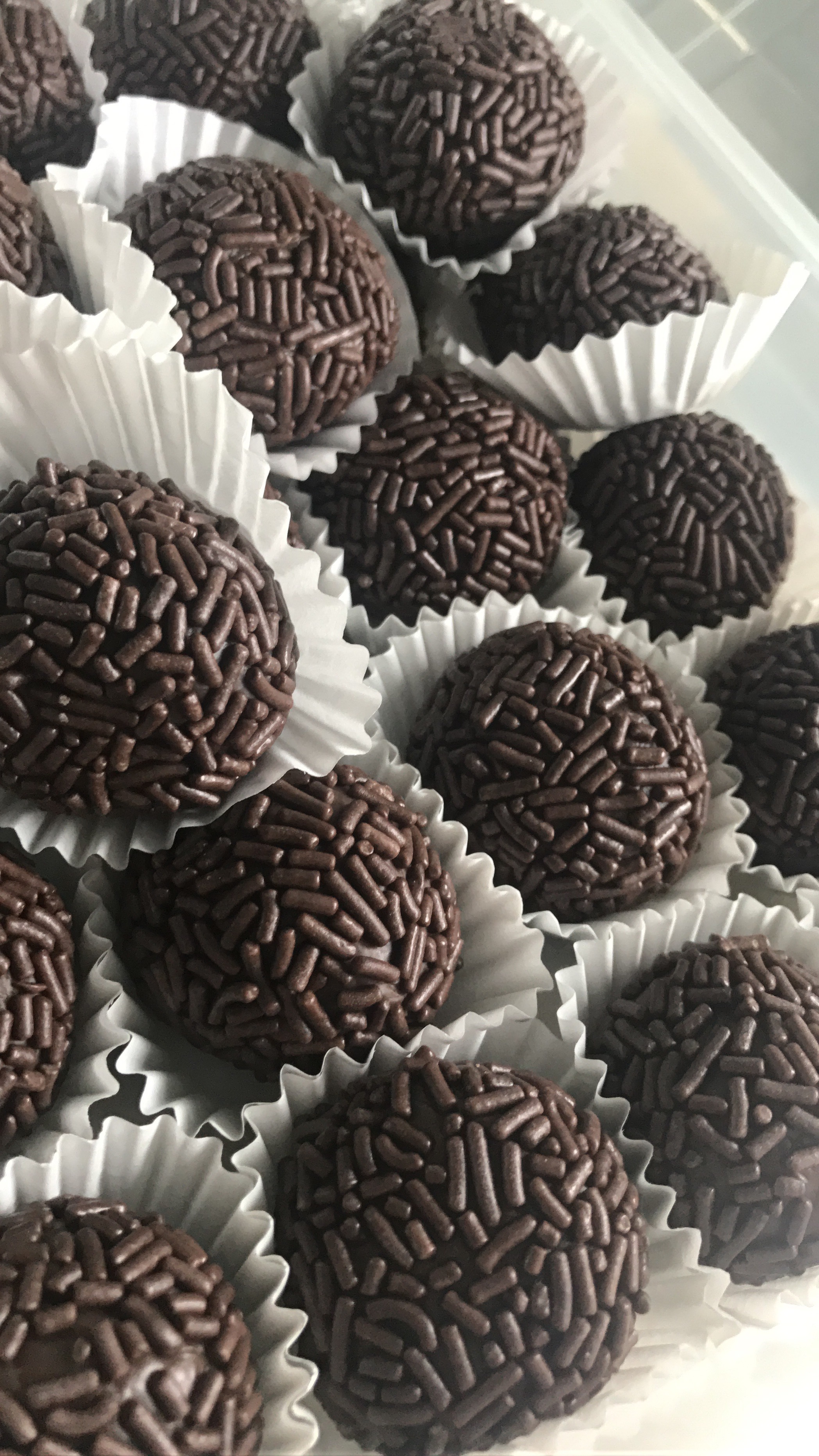 Our Story
Back in summer 2013, I (Brooks) was working at a gym in Boston, and Natalia walked in looking for a membership. She wore brightly colored pants and carried around stick-figure drawings of her exercise program. Naturally, I tried impressing her with my spanish. Oops... Brazilians speak Portuguese. Communication was an issue, but we were both awesome at stick-figure drawings and using google translator.
Natalia was here as an Au Pair, planning to stay 1 year and learn English. During that year, we spent most of our time in the kitchen. We loved cooking together, listening to Bossa Nova and sharing stories. When she would get home-sick, I'd always take her to a Brazilian restaurant and she'd teach me how to order things in Portuguese. When I'd get stuck at work, she'd always make me little Brazilian snacks. Food and cooking truly connected us, and we fell in love.
It only took 8 months for us to realize we wanted to spend the rest of our lives together, traveling and cooking. So we soon married and spent the first 3 years visiting places we've never been and eating copious amounts of Brazilian food (and some Creole - also quite tasty). In the process, I fell in love with the cuisine and culture of Brazil and wanted to share it with our friends and family in Maine (where there are no Brazilian eateries).
Sampa Kitchen (formerly "Grillin Brazilian") is our way of bringing the dishes, styles, and atmosphere of Brazil right to your plate. We hope you enjoy it!